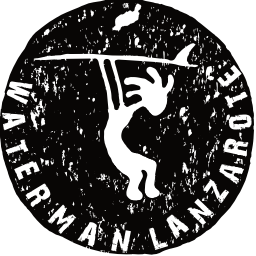 The wing foil is the latest, super FUN and quite easy to learn here in Lanzarote.
 Wing foil is a new watersport,  combination of windfoiling, kitefoiling and foilsurfing.
The hydrofoil allows us to take-off over the water and fly over the surface which give you a special sensation and felling of freedom, flying by controlling the foil and the wing in your hands. Wing foil give us freedom on the water by using the energy of the wind and the waves. Practicing on a short but wide and thick board give us more stability.
The best spot to learn wing foil in Lanzarote is in La Santa lagoon. The place is save for total beginners in wing foil and also the one who took a next steep and are already enjoying in this new sport.
One of the greatest advantages of wing foil is its versatility. Enjoying in various water conditions, from calm lakes to windy oceans, and even in small waves. Wing foil can be done in lighter winds, thanks to the wing's efficient design and the lift provided by the hydrofoil.
Another appealing aspect of wing foil is its accessibility. Relatively easy to learn, especially for those with previous experience in windsurfing, kiteboarding, or other water sports. The compact and portable nature of the equipment makes it convenient for travel, and the absence of lines or ropes reduces the risk of entanglement.
Wing foil has quickly gained popularity worldwide, attracting water sports enthusiasts of all ages and skill levels, offering a thrilling way to interact with nature, combining the elements of wind, water, and speed. Whether you are seeking a new challenge or simply want to explore the exhilarating world of water sports, wing foil provides a unique and enjoyable experience on the water's surface.